Top Rop Climbing Instructor
Top Rope Climbing Instructors (TRCI) work with groups in simple outdoor rock climbing terrain with easy access where students do not require anchoring between climbs or rappels.
Top Rope Climbing Instructors:
TRCI's work with summer camp programs, educational institutions, non-profit groups as well as climbing schools.
The TRCI program prepares candidates to instruct roped and unroped movement, belaying, top roping and rappelling as well as respond to climbing site emergencies.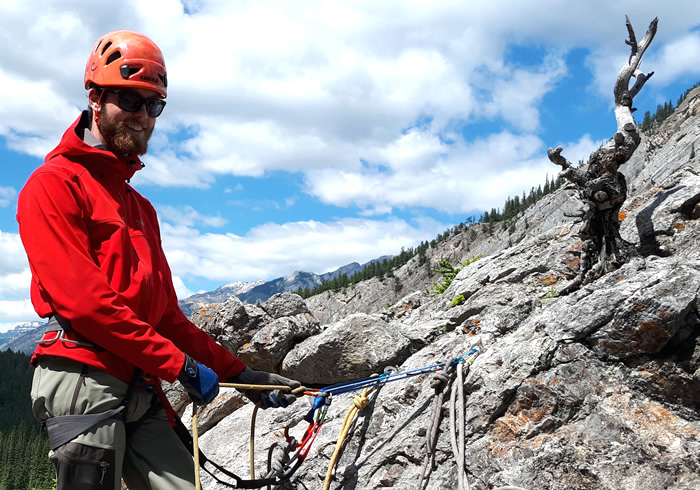 Prerequisites
You must be at least 19 years of age.
Submit a skills resume showing:

Have a minimum of 30 days outdoor climbing experience over at least 2 years
Have lead climbed 20 outdoor routes, 10 of these routes are at a minimum standard of 5.8
Can top-rope to a minimum standard of 5.9

Supply references who are familiar with your personal and technical background.
Include a copy of a current Standard (16 hr) first aid certificate or better.
Include a letter of recommendation from an outdoor climbing operation (camp, educational institution, climbing school or indoor climbing facility).
1 to 2 paragraphs about your background and goals related to becoming a Top Rope Climbing Instructor.
Standard First Aid Course
The Climbing Instructor Programs require a Standard First Aid Course. These courses usually run over a two-day period (minimum 16 hrs), combining theory and practical sessions to provide the basis for dealing with traumatic and medical emergencies.
Standard First Aid and CPR Course

Thesecourses usually run over a two-day period (minimum 16 hrs), combining theory and practical sessions to provide the basis for dealing with traumatic and medical emergencies.
The ACMG does not run these programs but rather relies on outside course providers. Programs from the following, partial list have proven acceptable in the past. Please contact the ACMG Training and Certification program office if you have any questions.

Standard First Aid

Web info:

Explore these sites to find information and contact numbers to find a course near you: