Ski Guide
This program is designed to develop the guiding and instructional skills needed to work in a backcountry ski and snowboard environment. The ski guide certificate is an industry standard for backcountry guiding in Canada. The certificate has 4 components: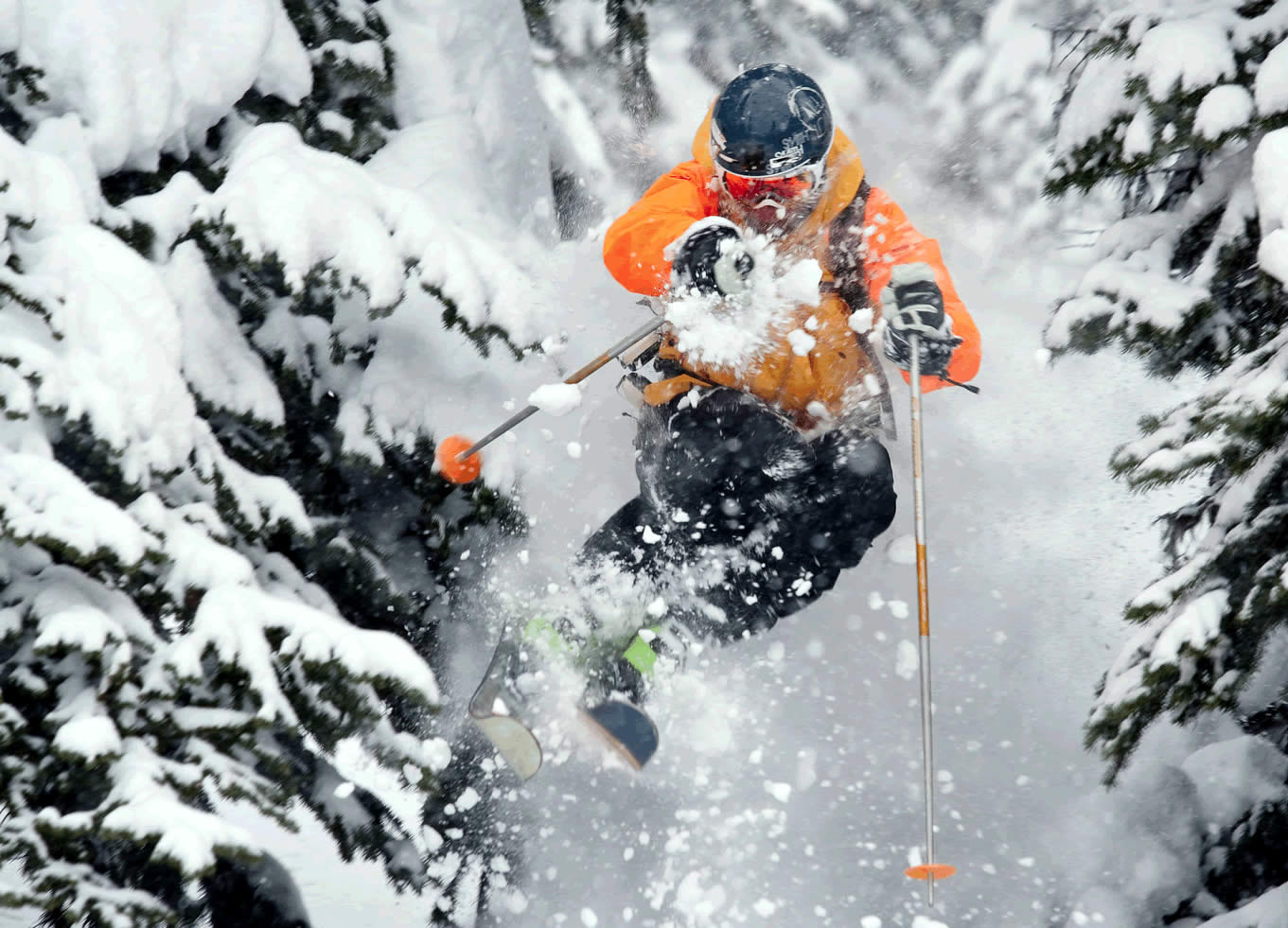 Overview
2019 Application Update
See the Guide Training Ski Application Package for a detailed overview of the application requirements.
The application process is highly competitive. Prospective students are encouraged to focus their efforts towards gaining practical experience. Personal experience in a decision-making role and applied industry experience are what best prepares students for their training courses and exams, and more importantly, for their guiding careers.
Prerequisites to the Guide Training Ski Program:
Personal Experience
Successful applicants must possess a minimum three years of personal backcountry skiing or snowboarding experience in a variety of snowpack regions in a leadership or co-leadership capacity.

Personal Movement Standard
Successful applicants must demonstrate smoothly linked turns in all terrain, appropriate adjustment of style and technique to snow conditions, and stable skiing or riding at all times. Achieving the personal movement standard requires focused effort and training. All applicants are required to submit a movement skills video with their application.

The Training and Assessment Program ski and snowboard movement standard is shown in this video.
https://vimeo.com/310194665

Required certificates

Canadian Avalanche Association (CAA) Operations Level 1
CAA Avalanche Search and Rescue (AvSAR) Advanced Skills - Note that the AvSAR Practical Skills Assessment will be a prerequisite for Guide Training Ski courses that take place in 2020-21. As such it is strongly recommended for 2019-20 applicants
80 hr Advanced Wilderness First Aid - Courses from this partial list of providers have proven adequate in the past. Contact the ACMG if you are uncertain about other programs.
Payment and Cancellation Policy
Registration fees are due in full 45 days prior to the start of the course to confirm your attendance. Non-payment or partial payment of your fees at the deadline will result in forfeiture of your spot on the course. To receive a refund, the ACMG TAP office must receive notice of cancellation by e-mail a minimum of 45 days prior to the course start date.
The Training and Assessment Program does not accept any withdrawals or provide any student requested refunds after the payment deadline. This includes cancellations due to personal injury, illness, medical reasons, family emergency, etc. In the event the TAP office cancels the course, all fee payments will be returned in full.
Cancellation/interruption insurance

ACMG partner, Lifestyle Financial, offers Training and Assessment Program students course cancellation/interruption insurance coverage, to request a quote complete their online form here or contact Maria Delaney at maria@lifestylefinancial.com. The Training and Assessment Program reserves the right to cancel courses after the payment deadline, in these instances, students will be provided with a full refund.
First Aid Overview

The ACMG does not run these programs but rather relies on outside course providers.

For the Mountain Guide and Hiking Guide Programs an Advanced Wilderness First Aid course with a minimum of 80 hours is required. Although wilderness courses are preferred, Occupational First Aid Level 3 is also accepted.


The Climbing Instructor Programs require a Standard First Aid Course. These courses usually run over a two-day period (minimum 16 hrs), combining theory and practical sessions to provide the basis for dealing with traumatic and medical emergencies.

Advanced Wilderness First Aid

An Advanced Wilderness First Aid course with a minimum 80 hours is required. Courses from the following partial list of providers have proven adequate in the past. Contact the

ACMG Training and Assessment Program

office if you are uncertain about other programs.

Alberta Health and Safety Training Institute
125 3510 29th Street NE Calgary AB T1Y7E5
Phones 1.888.670.5406, 403-670-5406, fax 1-866-202-1822
info@safetyed.ca, www.safetyed.ca
Canadian Institute of Safety Search and Rescue Advanced First Aid
Box 6151, Cochrane AB TOL OW0 Phone 403-932-3689
Outdoor Emergency Care Program - National Ski Patrol
NSP National Office 133 South Van Gordon Street, Suite 100 Lakewood, CO 80228
http://www.nsp.org/nsp_programs/oec.aspx
Pacific Alpine Institute
102-4369 Main Street, Suite #997, Whistler, B.C. V0N 1B4 Phone 604 938-7846
www.pacificalpineinstitute.com
Peak Emergency Response Training
1717 Beach Grove Road South Delta, BC V4L 1P4
778.899.7325, admin@peakemergencytraining.com, www.peakemergencytraining.com
Remote Medical International
3400 Harbor Ave SW. Suite 344 Seattle, WA 98116
206.686.4878 Toll Free: 800.597.4911 info@remotemedical.com, www.remotemedical.com
Rescue Dynamics
5109 -17 A Ave. NW, Edmonton AB T6L 1K51
780-461-5040 rescuedynamicsinfo@telusplanet.net, www.rescuedynamics.ca
Rocky Mountain Adventure Medicine Inc.
9 Manyhorses Close, Redwood Meadows, AB T3Z 1A1
Phone/Fax 403-949-2632 adventuremedic@nucleus.com, www.adventuremed.ca
Sirius Wilderness Medicine
2685 rue Rolland, suite 303, Ste-Adèle, QC J8B 1C9
Phone 514.509.2112, Toll free 877.982.0066, Fax 514.509.2123
email: info@siriusmed.com www.siriusmed.com
Slipstream Wilderness First Aid
#403 110-174 Wilson Street, Victoria, BC, V9A 7N7
1-800-760-3188 email: info@wildernessfirstaid.ca, web: www.wildernessfirstaid.ca
Wilderness Alert Safety Training & Products
Box 95050 Vancouver BC V6P 6V5
Phone 604-263-1432 or 1-800-298-9919 email:
info@wildernessalert.com, web: www.wildernessalert.com
Wilderness Medical Associates, Canada
106- 1100 Main St. W., Hamilton ON L8S 1B3
Phone toll free 1-877-945-3633, 905-524-5531 web www.wildmed.ca
Wilderness Medical Consultants
Box 64 - 512-9th St South, Golden, BC V0A 1H0
Toll free 1-888-344-4755, 250.344.4755 web www.wildernessmedicalconsultants.ca
info@wildernessmedicalconsultants.ca
Expectation
On the courses, you must be capable of guiding clients on skis showing efficient and confident movement while linking appropriate turns in variable backcountry snow. You must show that you are capable of guiding clients in alpine ski mountaineering terrain including glaciers, snow and ice, and simple short-roping terrain.